'I Am Strong' Silver Cancer Wristband/Bracelet
The American Cancer Society's "I Am Strong" wrist band honors cancer survivors, those currently undergoing treatment, and their amazing caregivers. It is both a symbol of strength for anyone who has heard those unforgettable words, "You have cancer," and a way for friends and family to display solidarity with the more than 9.5 million cancer patients and survivors in the US today.

Help the American Cancer Society celebrate the lives of all those who have been touched by cancer by wearing your wrist band proudly. Give them to family and friends and help someone say the words, "I AM STRONG."

Most of the your purchase minus transaction fees goes directly to the ACS.
Manufacturer:
American Cancer Society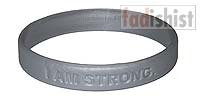 Hey, we've been selling things online for about 18 years, 11 months, and 0 days. Isn't that special?