Ah! My Goddess - Vol. 5: In Your Eyes
For the Morisato household, it is a time of change. First Belldandy has a change of attitude, from perfectly innocent to the perfect opposite. A little magic accident gives Keiichi's gender a change of its own. Urd has some changes in store when she walks away from her job in an attempt to save her sister's life. She has her powers revoked, and she turns to "the Devil in Miss Urd" to get them back.

Product Details:
Vol. 5 of 6, Episodes 19-22.
Running Time: 100 mins.
Manufacturer:
Media Blasters Inc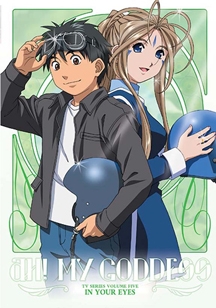 Hey, we've been selling things online for about 18 years, 8 months, and 14 days. Isn't that special?