Secretary
Lee Holloway (Maggie Gyllenhaal) has a few strikes against her when she applies for a secretarial position at the law office of E. Edward Grey (James Spader). Although she's never had a job in her life, Lee is hired by the mysterious lawyer, Mr. Grey. At first the work seems quite normal – but soon, in between typing, filing and making coffee, Lee and Mr. Grey embark on a more personal relationship, crossing lines of conduct that would give any human resource director the vapors!

Product Details:
Starring: James Spader, Maggie Gyllenhaal, Jeremy Davies, and Leslie Ann Warren.
Directed By: Steven Shainberg.
Running Time: 111 Mins.
Manufacturer:
Lions Gate Entertainment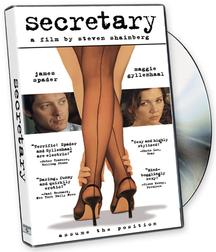 Hey, we've been selling things online for about 18 years, 8 months, and 14 days. Isn't that special?