The Omen (Collector's Edition)
The first film in classic, four-part legacy of terror stars Gregory Peck as an ambassador who is talked into switching his wife's (Lee Remick) stillborn baby with an orphaned infant. When young Damien is Five, the horror begins with his nanny's dramatic suicide. As the death toll escalates, Damien's father, realizing his son is the antichrist, decides that he must kill the boy and rid the world of the evil.

Product Details
Running Time: 266 mins.
Manufacturer:
Twentieth Century Fox Home Ent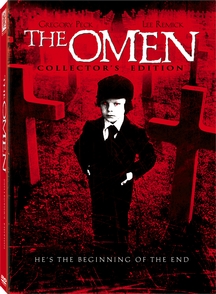 In our many years online, we've had 5,744,292 sets of human and robot eyes examine our website.