The Sopranos: The Complete Seasons 1-5
The Complete First Season
On January 10th, 1999, America was introduced to two families that would make history: The Soprano family headed by Tony Soprano, and The Soprano "family" headed by ... Tony Soprano. ' 'Four Stars! The first gotta-watch, gotta love, Gotti-like TV series of 1999. Across the board it's an A-plus.' ' - The New York Post ' 'Achieves a fresh tone to match its irresistibly winning concept.' ' - The New York Times. Run Time: 696 Mins.

The Complete Second Season
For Tony Soprano, there's no such thing as business as usual. Balancing the demands of his immediate family - wife Carmel, daughter Meadow and son Anthony Jr. - witht the demands of his other family - Paulie Walnuts, Silvio Dante and Big Pussy Bompensiero - means walking a tightrope no self-respecting mobster should have to walk. With his mother and uncle plotting against him, his older sister Janice wreaking her own special kind of havoc, and the very real threat that one of his closest allies is wired by the F.B.I, Tony needs the support of his psychiatrist Dr. Melfi more than ever. Run Time: 696 Mins.

The Complete Third Season
Some suburban households have two cars. Some have two houses. But Tony Soprano has two families. This could be why the FBI is going to such lengths to wiretap his home. Why the son of his dear late friend Jackie Aprile is causing him such agita. Why a Russian housekeeper is searching for her missing leg. Why his son is vandalizing school property and his daughter is getting her heart broken. Why his wife Carmela is both consulting a psychiatrist and confessing to a priest. And it's also why Tony Soprano is still seeing Dr. Melfi for his anxiety attacks. It isn't easy heading-up the mob in New Jersey. But that's what puts dinner on the table for the two families of Tony Soprano. Run Time: 696 Mins.

The Complete Fourth Season
It's tough times in Jersey for Tony Soprano. The sluggish economy hasn't been good for the family business. His wife Carmela is angling for more financial security. Some longtime lieutenants aren't happy with Tony's recent decisions. A rival boss wants a bigger piece of the suburban pie. A Sopranos is actually heading to trial for the first time in decades. At least one child seems to have lost interest in higher education. And the ducks aren't coming back anytime soon. PROGRAM INFORMATION Number of Episodes: 13 1. For All Debts Public & Private 2. No -Show 3. Christopher 4. The Weight 5. Pie O My 6. Everybody Hurts 7. Watching Too Much Television 8. Mergers & Acquisitions 9. Whoever Did This 10. The Strong Silent Type 11. Calling All Cars 12. Eloise 13. Whitecaps. Run Time: 696 Mins.

The Complete Fifth Season
His separation hasn't been working out. His nephew's fiance has become a distraction. His paroled cousin is giving off bad vibes. His business rival is looking for payback. His therapist isn't buying into the "other Tony." It's enough to send any mob boss over the edge. Hell hath no fury like The Sopranos. Run Time: 680 Mins.

Product Details:
Total Runtime 3464 Mins.
Manufacturer:
Warner Home Video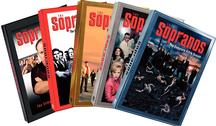 Hey, we've been selling things online for about 18 years, 11 months, and 0 days. Isn't that special?