'Bike and Destroy' Sticker
Model Number:
skun-bikead
Bikes are where it's at! Destroy the gas dependence and the throw it in the face of those Hummer owners that with your bike you don't pay for gas! Perfect for sticking on your bike to show the world and your fellow cyclists where you stand.

This sticker is about 8.5 inches wide and 1 inch high.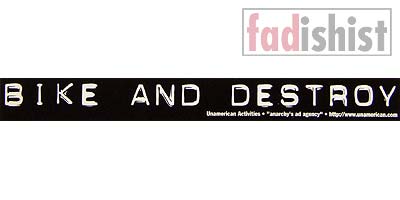 Hey, we've been selling things online for about 18 years, 2 months, and 22 days. Isn't that special?