'Blow Up Disneyland.' Sticker
Talk to those who worked at Disneyland to understand what this means! In a land where Disney sues the workers that remove their costume head in public view while puking from heat exhaustion, where no deaths are ever within the boundries of the park (they move bodies outside to declare them dead elsewhere), where gays and tatooed people are not welcome.

This sticker is about 8.5 inches wide and 1 inch high.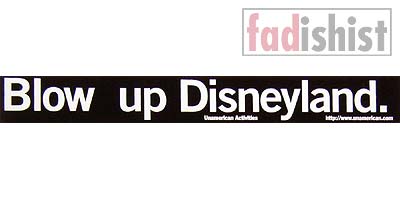 In our many years online, we've had 5,676,515 sets of human and robot eyes examine our website.