'Boy Does High School Suck' Sticker
Model Number:
skun-dbhssuc
Cliques, Bullies, Asshole Teachers, and Klebolds. Who needs all of this frustration? Learning in an environment like this doesn't make the best sense. Home school is the way to go!

Wait, this is the same as another school stickers description. Plagiarism? Absolutely, and I can get away with it.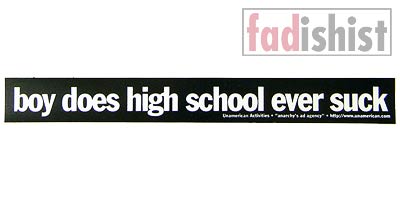 Hey, we've been selling things online for about 16 years, 0 months, and 12 days. Isn't that special?