'Fuck Decaf' Sticker
Model Number:
skun-fdecaf
Decaf? All great things come from hours of slaving at an idea while gulping endless pots of caffeine until the wee hours of the next day. Fuck Decaf, damn straight.

This sticker is about 8.5 inches wide and 1 inch high.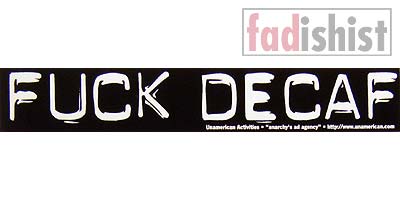 In our many years online, we've had 5,676,529 sets of human and robot eyes examine our website.