'Gimme Gimme Food Stamps' Sticker
Model Number:
skun-ggfoods
It is a way of life for many, sucking off the government funds. Show your disdain for food stamps with this sticker. Buy a handful and maybe you can give them a new home at your local Department of Social Services.
This sticker is about 8 inches wide and 1.75 inches high.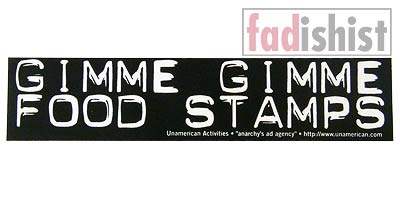 Hey, we've been selling things online for about 17 years, 0 months, and 11 days. Isn't that special?