'Let's Lynch the Landlord' Sticker
Model Number:
skun-lynchln
The rent is too damn high!

Try living alone, and you will have to work so much that you never are home. Our modern times have even established professionals needing to share housing to make ends meet.

If lynching isn't your thing, why not buy? Rent is just pissing away your money.

This sticker is about 8.5 inches wide and 1 inch high.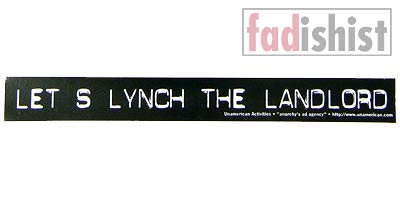 Hey, we've been selling things online for about 17 years, 0 months, and 11 days. Isn't that special?