'Make Yuppies Suffer' Sticker
Didn't I see that outfit in WalMart? Does your fast car match the speed of your hair loss? Did Mommy and Daddy buy that for you?

Oh yeah, taunt and tease the yuppies, it helps build their lack of character!

This sticker is about 8.5 inches wide and 1 inch high.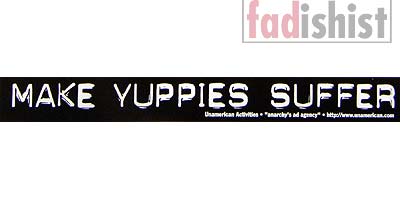 $0.99
Hurry! Only 4 remaining!
Hey, we've been selling things online for about 18 years, 0 months, and 18 days. Isn't that special?