'Overthrow That Shit' Sticker
Model Number:
skun-ovrthrw
History has shown that people will eventually rise against corruption in government. We saw it happen in Ukranine after violence and vote rigging which put Viktor Yanukovych in power. The Ukrainian people refused to accept and as a result Yanukovich was forced out to make room for Viktor Yushchenko.

We in the US needed the same in opposition to Bush being re-elected, but that is another story best to be reviewed when all the facts become apparent in the near future.
Manufactured by
Unamerican Activities
Unamerican Activities was a subversive sticker manufacturer which was founded in 1994 by Srini Kumar. The stickers ceased being produced some years ago in favor of a pivot to apparel. Their website has since gone away.
Our entire stock of Unamerican stickers are all out-of-print and old stock from around 2005, but there is no way to identify when the stickers were actually manufactured. These stickers have been tested to ensure they will adhere to surfaces, just make sure that you apply to a clean and dry smooth surface.
All Unamerican stickers are vinyl and black and white.
These are vintage and not available elsewhere that we are aware of. Once they are gone, they are gone!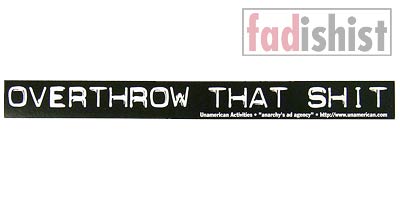 In our many years online, we've had 5,744,270 sets of human and robot eyes examine our website.