'Veto The Government' Sticker
Model Number:
skun-vetogov
Laws and motions are constantly killed by a matter of bipartisan politics. A few votes one way and something could happen that would improve the world, but often the opposing party will vote it down no matter the reason. It makes no sense. Let's just veto the government for a change!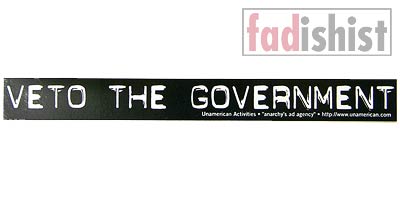 Hey, we've been selling things online for about 16 years, 5 months, and 14 days. Isn't that special?