'I Only Eat Vegetarians' T-Shirt
Mmmmmm, vegetarians. We'll leave it for you to figure out what is meant by 'eat', although it just might run along with the motto: 'Vegetarians Taste Better' : )

This design is 6 inches wide and 4 inches high on a variety of colored and white shirts. The shirt is manufactured by Hanes, which has made sure that all their factories do not practice slave-labor. The shirt is made with a 100% open-end cotton jersey fabric and has a double-needle coverseamed neck. Whatever that means.

Not only can you feel good about how this shirt is made, we went the extra step to ensure your comfort by selecting a Tagless T-shirt. That's right! No scratchy tag to rip out.

Colors and Sizes available: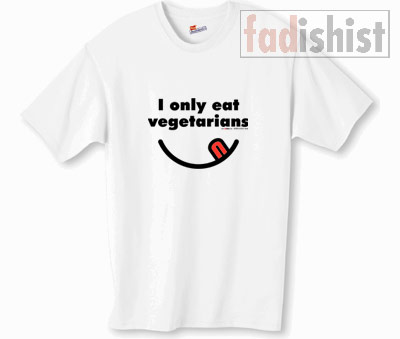 Hey, we've been selling things online for about 18 years, 4 months, and 22 days. Isn't that special?