'Making Strides' Breast Cancer Pink Wristband/Bracelet
This pink wrist band represents the millions of strides we have made in the fight against breast cancer with the support of people like you. Help the American Cancer Society continue to unravel the mystery of how breast cancer begins and seek better ways to prevent, detect, and treat the disease that will claim more than 40,000 lives in 2004 alone.

Wear the "Making Strides Every Day" wrist band to support those undergoing treatment, to honor those who have been lost, and to celebrate those who have survived. Give wrist bands to your friends and family to get them involved in the fight and to remind women age 40 and older to get their annual mammogram.

Most of the your purchase minus transaction fees goes directly to the ACS.
Manufacturer:
American Cancer Society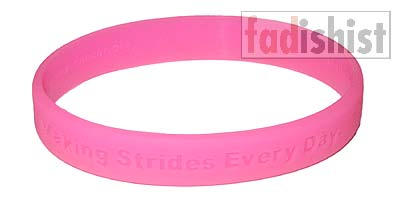 In our many years online, we've had 5,774,563 sets of human and robot eyes examine our website.