'Smokefree' Orange Cancer Wristband/Bracelet
The orange Livefree. Smokefree. wrist band can help start a lifesaving conversation about quitting smoking. Wear this band to help the American Cancer Society spread awareness about the benefits of living a healthy, smokefree life and share them with friends and family to encourage them to kick the habit.

Smoking is by far the leading risk factor for lung cancer, so wear the "Livefree.Smokefree" wrist band to support those undergoing treatment for lung cancer, to honor those who have been lost, and to celebrate those who have survived. Lung cancer is the leading cause of cancer death for both men and women – more than 160,000 people will die of the disease in 2004.
Most of the your purchase minus transaction fees goes directly to the ACS.
Manufacturer:
American Cancer Society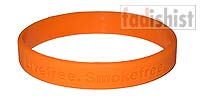 Hey, we've been selling things online for about 18 years, 8 months, and 14 days. Isn't that special?