Boondock Saints (Unrated) - Special Edition
Explore the harrowing world of The Boondock Saints as never before in this Unrated Special Edition! Digitally remastered for extraordinary picture quality and exploding in 5.1 EX Dolby Surround Sound, this definitive two-disc edition of the cult phenomenon features deleted scenes, outtakes, two audio commentaries, a printable script and more!

Hot on the trail of the assailants behind the brutal murder of Russian thugs, FBI agent Paul Smecker (Willem Dafoe) is surprised to discover the killers are Irish twin brothers (Sean Patrick Flanery and Norman Reedus) who believe they've been chosen to rid the world of evil. But as they unleash more brutality on the criminals of Boston's underworld, Smecker finds himself torn between busting the vigilantes…and joining them!

Product Details:
Running Time: 108 mins.
Manufacturer:
Twentieth Century Fox Home Ent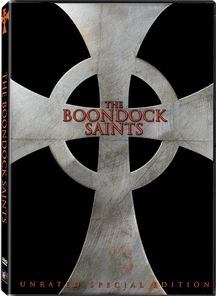 Hey, we've been selling things online for about 18 years, 2 months, and 22 days. Isn't that special?