Ah! My Goddess - Vol. 4: We've Got Tonight
The story of a typically reserved engineering student who unwittingly acquires his very own sex goddess after mis-dialing a number for takeout, this anime series comes from the long-running manga of the same name. In AH! MY GODDESS - VOL.4: WE'VE GOT TONIGHT, Keiichi must deal not only with Belldandy's drama, but also with that of her sisters. Skuld, Belldandy's younger sister, might possibly be the worst of the bunch, as she's constantly hogging Belldandy for herself and even going so far as to create a robot for the purpose of keeping her sister and Keiichi apart. When the group embarks on a vacation to the beach, Keiichi sets his sights on kissing Belldandy.

Product Details:
Vol. 4 of 6, episodes 15-18.
Running Time 100 Mins.
Manufacturer:
Media Blasters Inc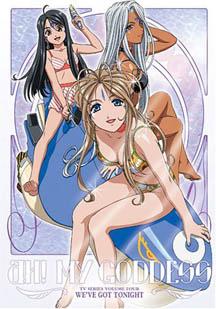 Hey, we've been selling things online for about 18 years, 11 months, and 0 days. Isn't that special?