Pee-Wee Herman Show (Live at the Roxy Theatre)
Not quite a children's show, The Pee-Wee Herman Show is slyly subversive, a little bit naughty and always outrageous. Making its premiere as a midnight show on February 7th, 1981, at The Groundlings Theatre in Hollywood, the performance then moved to the famed Roxy Theatre on the Sunset Strip where it was filmed as part of HBO's new series On Location. Conceived as an homage to children's television programs of the 1950's and 60's, this live stage production features original music, puppets, a cartoon, a short educational film and Pee-wee's hilarious live-action friends.

Product Details:
Running Time 58 Mins.
Manufacturer:
Image Entertainment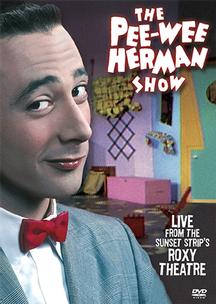 Hey, we've been selling things online for about 18 years, 8 months, and 14 days. Isn't that special?