The World's Fastest Indian
Anthony Hopkins stars in the true story of Burt Munro, a motorcycle enthusiast from New Zealand who designs and builds one of the fastest bikes in the world. The story includes his legendary 1967 performance at the famed raceway at Bonneville Salt Flats in Utah, where he set the land speed record., The life and triumph of Burt Munro, the elderly Kiwi man who, at the far from spritely age of 68, broke motorcycle racing records in Utah, has fueled director Roger Donaldson's creative energy for years. In the early 1970s, just a few years after Munro's incredible triumph, Donaldson directed OFFERINGS TO THE GOD OF SPEED, a documentary on the sensational senior. Here, with the help of the fine actors Anthony Hopkins and Diane Ladd, the director brings the story to vivid, dramatic life yet again, constructing a gripping and inspirational narrative.

Hopkins's Munro is a rich and magnetic character, a man who wears his notable physical ailments (which include an embarrassing prostate condition and deficient eardrums) like quirky idiosyncrasies rather than debilitating defects. An active playboy, Munro is a lovable character in his small New Zealand town, an attractively unique old man with a zest for life and a love of his vintage motorcycle--a bright red 1920 Indian model. After racing his own times obsessively every day, he becomes determined to live out his dream of participating in the annual Speed Week motorcycle event at Utah's Bonneville Salt Flats. Through local support and innovative fundraising, Munro is finally able to afford the long nautical journey across the world to Mormon-land and, beating all the incredible odds, not only enter the race but break its records with a jaw-dropping speed of 201 miles an hour. Besides telling a classic tale of individual triumph, THE WORLD'S FASTEST INDIAN offers a sociological look at the American West of the late 1960s, an iconic landscape peppered with colorful characters that include a wizened Native American and a generous drag queen, both of whom help the eccentric elder on his quixotic quest.

Product Details
Running Time 127 Mins.
Manufacturer:
Magnolia Home Entertainment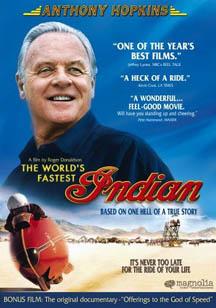 Hey, we've been selling things online for about 18 years, 8 months, and 14 days. Isn't that special?