X2: X-Men United (WideScreen)
The evolution continues in this "exhilarating thrill ride" (Seattle Post-Intelligencer) that features the extraordinary original X-Men - along with amazing new mutants possessing fantastic powers that have to be seen to be believed. In the wake of a shocking attack on the President, the X-Men face their most dangerous mission ever. They must stand united with their deadliest enemies to combat a menace that threatens every mutant on the planet. But could this new alliance backfire and annihilate the human race? Patrick Stewart, Ian McKellen, Hugh Jackman, Hale Berry, Famke Janssen and Rebecca Romijn-Stamos star in this breathtaking, action-packed spectacle that "may be the best superhero movie yet made!" (San Francisco Examiner)

Product Details:
Running Time: 132 min.
Manufacturer:
Twentieth Century Fox Home Ent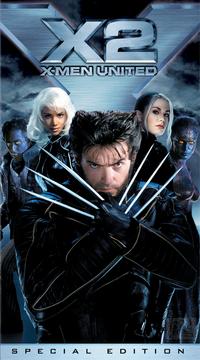 Hey, we've been selling things online for about 18 years, 8 months, and 14 days. Isn't that special?