Penn & Teller: Bullshit! (3 DVDs)
Self-proclaimed pit-bulls of truth, Penn & Teller use their trademark humor, knowledge of carnival tricks, and hidden cameras to blow the lid off popular notions about second hand smoke, self help products, diet claims, creationism, TV psychics, Feng Shui, bottled water and more!

See the "Naked Promo" that was too hot to air on TV, Bonus episode on Ghosts, Deleted scenes, Outtakes and on-set footage, Season 2 sneak preview

Product Details:
Running Time: 364 Min.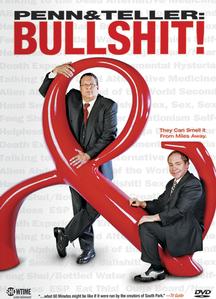 In our many years online, we've had 5,774,485 sets of human and robot eyes examine our website.