Sledgehammer! - Season One
In the fall of 1986, an unsuspecting TV nation met a new kind of comedy hero who made Rambo look like Pee Wee Herman. David Rasche starred as the trigger-happy lawman whose hatred of criminal scum and yogurt eatin' creeps was matched only by his love of excessive force and a .44 Magnum. Over the next two seasons, this hilariously deranged lampoon of DIRTY HARRY and plenty of other targets became one of the most notorious series in television history and launched a rabid cult of fans that grows to this day. This is SLEDGE HAMMER!

The complete first season of SLEDGE HAMMER! is now newly re-mastered (including removal of the laugh track) and loaded with an arsenal of exclusive extras that features uncensored footage, all-new interviews with stars David Rasche, Harrison Page and Anne-Marie Martin, audio commentaries and more, all given the "Hammer" seal of approval by Series Creator & Executive Producer Alan Spencer.

Product Details:
22 Episodes on 4 DVDs Running Time 534 Mins.
Manufacturer:
Anchor Bay Entertainment, Inc.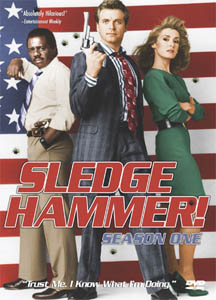 Hey, we've been selling things online for about 18 years, 8 months, and 14 days. Isn't that special?