The Sopranos: The Complete Fifth Season
His separation hasn't been working out. His nephew's fiance has become a distraction. His paroled cousin is giving off bad vibes. His business rival is looking for payback. His therapist isn't buying into the "other Tony." It's enough to send any mob boss over the edge. Hell hath no fury like The Sopranos.

Episodes:
1 - Two Tony's
Rat Pack
Where's Johnny?
Seasons 1-4 Recap

2 - All Happy Families
Irregular Around the Margins
Sentimental Education
In Camelot

3 - Marco Polo
Unidentified Black Males
Cold Cuts

4 - The Test Dream
Long Term Parking

Product Details:
Running Time: 780 Mins.
Manufacturer:
Warner Home Video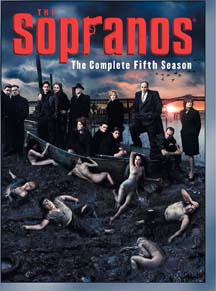 Hey, we've been selling things online for about 18 years, 10 months, and 30 days. Isn't that special?