'Life Isn't Fair' Sticker
Model Number:
skun-lfntfai
My car ran out of gas. It was the middle of the Winter. I was wearing club going clothes and a large wool coat.

If I had a cell phone, I could have called someone, but I don't like cell phones. Instead, I had to huff it through the zero degree (F) night up a hill 1.5 miles away to the nearest gas station.

Sure, I should have fueled up before, but the needle had been far below what it was when this happened.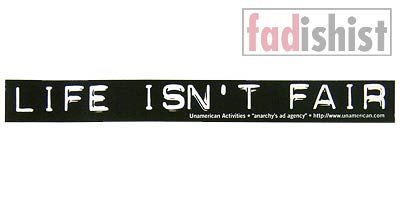 Hey, we've been selling things online for about 18 years, 0 months, and 18 days. Isn't that special?