'Nature Is Pissed' Sticker
Model Number:
skun-nipiss
Pollution, over population, urban sprawl, global warming, deforestation. Yeah, Nature, I'd be pissed too if some parasites were able to run amok on me!

This sticker is about 8.5 inches wide and .75 inch high.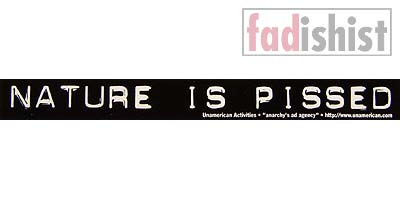 In our many years online, we've had 5,653,784 sets of human and robot eyes examine our website.