'Nature Is Pissed' Sticker
Model Number:
skun-nipiss
Pollution, over population, urban sprawl, global warming, deforestation. Yeah, Nature, I'd be pissed too if some parasites were able to run amok on me!

This sticker is about 8.5 inches wide and .75 inch high.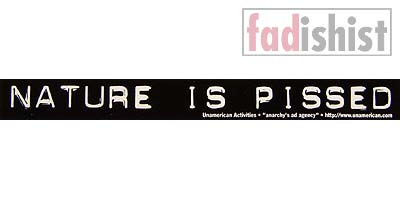 Hey, we've been selling things online for about 17 years, 10 months, and 19 days. Isn't that special?