'Orgasms Are Good' Sticker
Model Number:
skun-oagood
Orgasms are good! Who is going to argue with you about this? Oh, well, I suppose someone that believes that pleasure is a sin ... let's hear their opinion on the subject next time they reach one!

Hell, if you don't believe it, ask your doctor.

This sticker is about 8.5 inches wide and 1 inch high.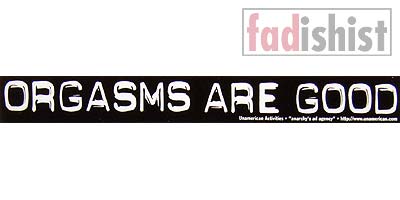 Hey, we've been selling things online for about 17 years, 10 months, and 19 days. Isn't that special?